Just be where you're at, right now.
I know this doesn't sound particularly deep. But it's 100% my mantra for today.
I am an all or nothing kind of girl. I don't half-ass too much. Which can be good.
Or not.
Because, sometimes, that all-in-ness can translate into not paying attention to where I am right now. I make everything a referendum on my personality, my worthiness, my potential. Which means there's little room to respond to current conditions–whatever those may be.
This idea of just being where I'm at right now popped up in yoga this morning (thanks, Adriene!). It helped me work through the fact that I was way bendier one one side than the other today (I like to be symmetrical, thankyouverymuch). A small thing, sure. But just being able to sense what my body needs, and to not see my current state as a limitation (or even a triumph) but just to let it be… it feels kind of revolutionary.
I'm a Virgo. We rarely just let things be.
The reminder to just be where I'm at also came in handy on my run–when my ankle went all janky and my joints literally felt like they were unhinged. Why? Who the hell knows? But it looked something like this: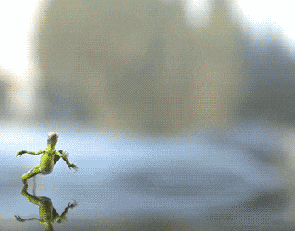 Typically, I'd get all up in my feels (and WAY into my head) about what would happen if my ankle got pulled out of alignment because my hips were too tight and then my foot got all janky and I couldn't to to the chiropractor because COVID and then my leg got so off-balance and tight and out of whack that I couldn't run and then I'd be all mentally out of balance and sad and not nice and then maybe no one would like me anymore.
Right.
And that started to happen. It did. But then I remembered: just be where you're at, right now. So, instead of that shitshow of a mental spiral, I just kind of shrugged.
My body feels a little weird, right now. So right now, I'm going to take it easy. Because that's what I need. Not forever. Maybe not even tomorrow. Right now.
Instead of making myself miserable trying to power through this morning's run at optimal speed, I slowed it down. And suddenly I realized there was a breeze. And that it was cool out–instead of hella swampy like it has been the past few days. I chose to be fully present in the moment–and the moment was beautiful, even if it wasn't the run I'd planned out.
Just be where you're at, right now.
Just be.